If you're looking for a great indoor shooting range near Denver, Centennial Gun Club in Centennial, CO is a great option. Located just 25 minutes outside of the city, Centennial Gun Club has more than 20 different shooting lanes so that all shooters, members and non-members, can enjoy their experience!
Centennial Gun Club was designed from the ground up to be a unique gun store, shooting range and training facility unlike any other in the Colorado Front Range. We developed a practice to give you the most complete experience by combining an exceptional Denver firearms dealer with one of the best indoor shooting ranges in the area.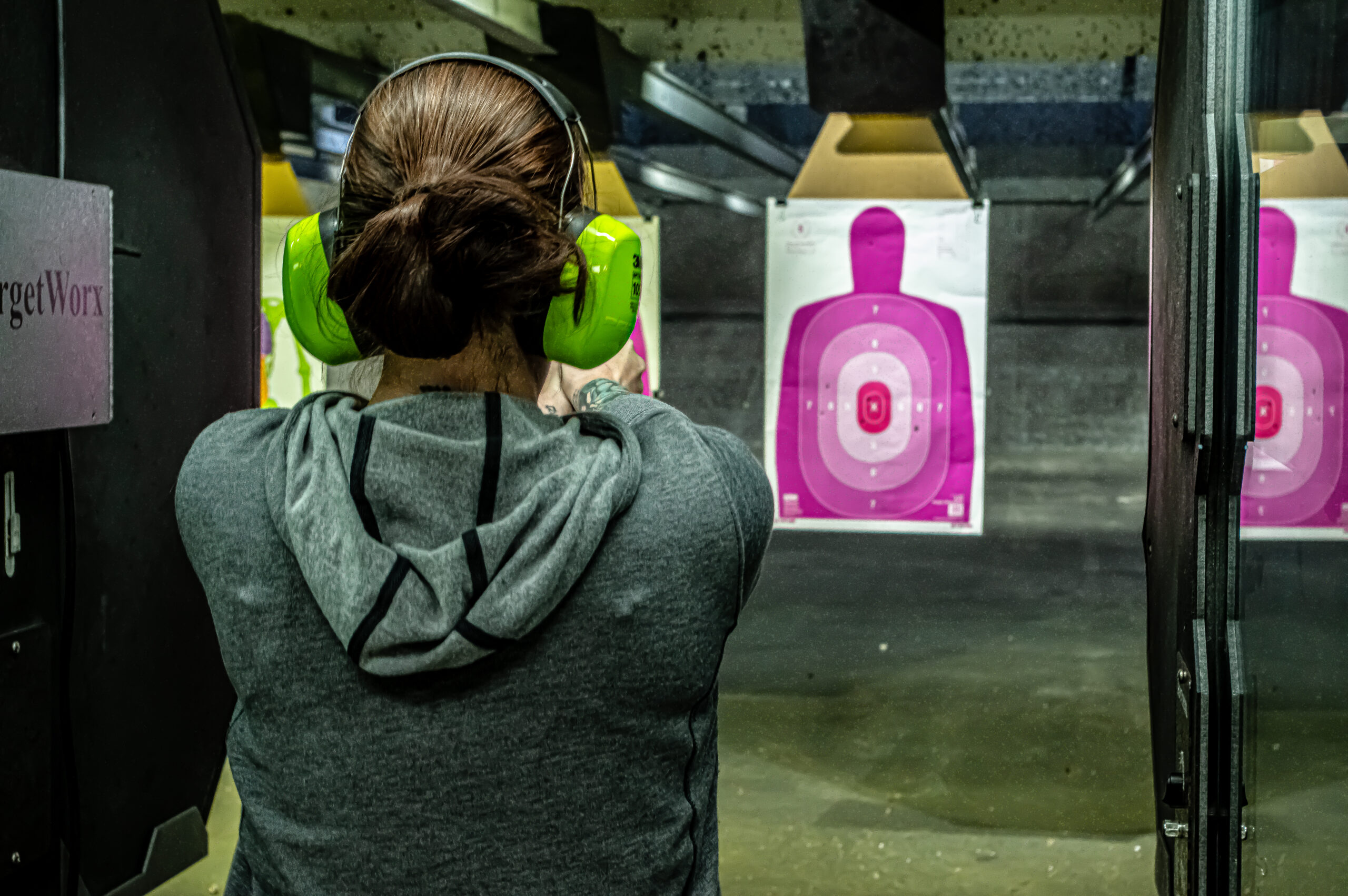 About the Centennial Gun Club Range
Centennial Gun Club is one of Denver's most advanced indoor shooting ranges and a great place to develop, practice, and fine-tune your shooting skills. The indoor range is equipped with state of the art technology like a programmable target retrieval system that gives you stationary targets, turning targets, running and disappearing targets that will challenge even the most advanced target shooters. Centennial Gun Club has everything you need to practice your shooting skills and enjoy a safe and fun time at the range.
Our indoor shooting range is open seven days a week with hours that vary depending on the day of the week and season (see current hours here). Walk-ins are always welcome but are subject to range availability. Firearm owners are encouraged to bring them in for practice, or you can explore our extensive selection of firearms available for rent or purchase, including handguns, rifles and shotguns.
Our Indoor Shooting Ranges Ventilation Systems
Ventilation systems are a critical component of indoor shooting ranges. The environmentally controlled ventilation system in our range provides you with clean, temperature-controlled air. With a slight breeze at your back, our system moves the air down range at a monitored and controlled rate of 75 feet per minute to prevent lead exposure and ensure that those at the firing line will always breathe clean, fresh air.
Looking to Buy a Firearm?
If you're in the market to purchase your own firearm, you've come to the right place. Visit our onsite or online shop and explore our huge selection of firearms, ammo and accessories so you can have everything you need for your next visit! Centennial Gun Club takes pride in our experienced, friendly and knowledgeable staff that are ready to listen and eager to address your questions or concerns. We are sure to help you find the right gun for your needs through our wide variety of popular new firearms, or timeless classics. indoor shooting ranges
Gain More Firearm Practice in our Variety of Training Classes
At Centennial Gun Club, we make sure to customize your training and education to fit YOUR personal needs and goals for shooting. Each training path we create is specific to each and every guest. After we understand your needs together, we will recommend a path and plan accordingly. For beginners, we recommend everyone starts with Intro to Pistol Shooting.
Plan Your Visit 
Centennial Gun Club is one of the best indoor shooting ranges in the area. We offer state-of-the-art amenities and in-house experiences from pistol shooting, rifle and shotgun platforms, to trap, skeet and sporting clays courses. We believe that having the right equipment, receiving outstanding training and practicing on the range on a regular basis are the keys to skill at arms. We bring all these elements together in one location in Centennial, Colorado.