NEW CGC MEMBER REFERRAL Program
Refer a Friend to Centennial Gun Club and Earn $50 in Reward Points!
At Centennial Gun Club, we know that the best things in life are better when shared with friends. That's why we're thrilled to introduce our Refer a Friend Program, designed to reward you for spreading the word about the ultimate shooting sports community.
When you refer a friend who becomes a member, you'll earn a generous $50 for standard or $200 for a Statesman worth of Centennial Gun Club reward points!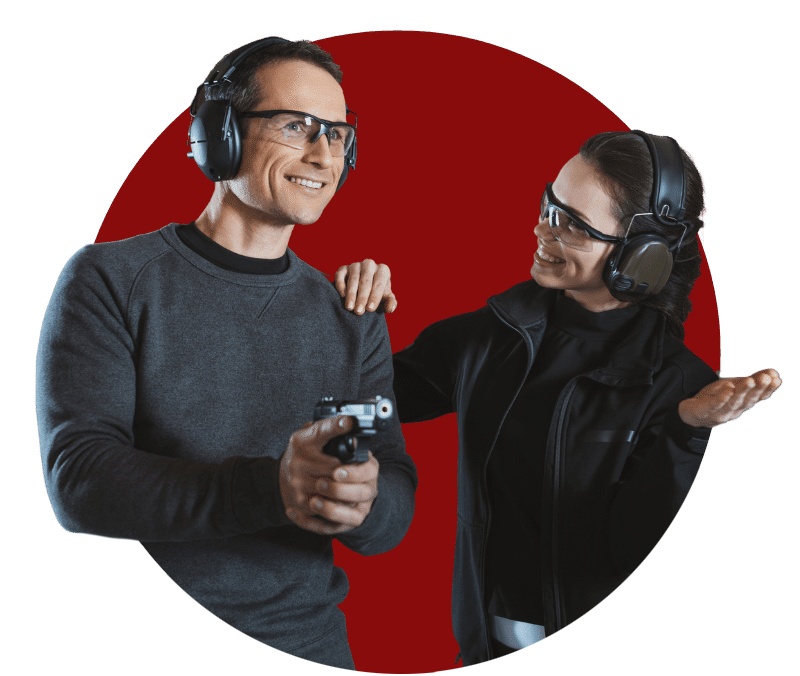 Centennial Gun Club is more than just a shooting range; it's a family of firearm enthusiasts who share a common passion for safety, education, and community. By referring a friend to join us, you're not only enriching their shooting experience but also getting rewarded for your loyalty.
Benefits for your friend:
The friend that you refer will get 15% off their initiation fee!!
Invite your friends to experience the excitement and camaraderie at Centennial Gun Club.
When your friend uses your referral to sign up for a membership, they become a part of our community, gaining access to exclusive benefits.
Earn $50 in Reward Points
As a token of our appreciation, you'll receive $50 worth of Centennial Gun Club reward points for each friend who joins.
Use your points towards your purchases at Centennial Gun Club! Including firearms, training, ammunition, accessories, gear, and more!
Have someone in mind you want to refer?
Fill out this form and a member from our team will kindly reach out to your referral.
Frequently Asked Questions
Q1: What is the CGC's Member Referral Program?
The CGC's Member Referral Program is a way for current members of CGC to invite friends, family, and acquaintances to join our community. By referring someone to become a member, you can earn rewards and help grow the community.
Q2: How can I refer a friend to be a member and earn 5000 points ($50 value) worth of reward points?
Simply have your friend mention your name when they are signing up. If they sign up online, call us to let us know who referred you.
Q3: Is there a limit to how many friends I can refer to be a member?
There is no limit to the number of friends you can refer to be a member at Centennial Gun Club. The more friends you refer who become members, the more $50 reward points you can earn.
Q4: How do I redeem my membership referral reward points?
Membership referral reward points will be automatically added to your account once your referred friend becomes a member.
Redeem on any of the following to use points:
Firearm purchases (New and Used)

Training classes

Gear and Accessories

Merchandise and Clothing

Ammo

Private Training

Range Time

Membership Fees (Monthly or Lump Sum)

Rentals

Gunsmithing Services

FFL Transfers

CGC Firearm Warranty
Q5: How can I check my reward points balance?
You can check your reward points balance by:
Web Browser – Log into your Centennial Gun Club Account and navigating to the "CGC Rewards" tab. Your points balance will be displayed there. 
Emails – Most emails you receive from CGC will also include your point total at the bottom of the email. Be sure to subscribe to the CGC Newsletter.
In Store – Ask any CGC team member
Q6: Can I redeem my reward points for cash?
No, reward points cannot be redeemed for cash. However, you can use your points towards your purchases at Centennial Gun Club.
Q7: Are there any restrictions on earning or using reward points?
Membership initiation fees are not included in the program, but ongoing membership fees (monthly or lump sum) are included.
Q8: Do my CGC Reward points expire?
Reward points expire one year from your last purchase. Whenever a purchase is made, it resets the one year expiration for all of your points.
Q9: Where can I get more information or assistance with the Rewards Program?
If you have any questions or need assistance with the Centennial Gun Club Rewards Program, feel free to call us at (720) 466-8651. We're here to help!