Private Instruction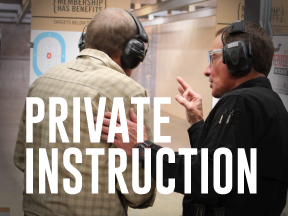 Private firearm instruction is available on a one-on-one basis by appointment with one of our staff instructors. Sessions are 1 hour in length. You may use your firearm or rent one from our gun rental selection (ammunition must be purchased from the Centennial Gun Club to be used in all rental firearms). Instruction is intended to help you develop new skills and improve on the skills you may already have.
Cost: $125.00  first person (add $50 for each additional person)
Firearm Rental: $15.00 up to 3 firearms.
Rental fee may be applied towards the purchase of a new firearm within seven days from the date of the instruction.
Ammunition: Cost varies depending on the Caliber of the firearm.
Targets: Cost varies depending on the target.
Eye and Hearing Protection: No charge
Topics such as:
Proper Grip                                                    Trigger Control
Proper Stance                                                Breath Control
Sight Picture/Sight                                         Alignment Follow Through
Malfunctions and Clearing                             Student Concerns
Required Equipment: None
Centennial Gun Club recommends but does not require that a full-size gun be used in our classes for several reasons: Full-size guns provide a better sight radius aiding accuracy and reduce shooter fatigue. However, this decision is left entirely to the student.
Instructor Team
Please call or send the instructor an email to setup an appointment.