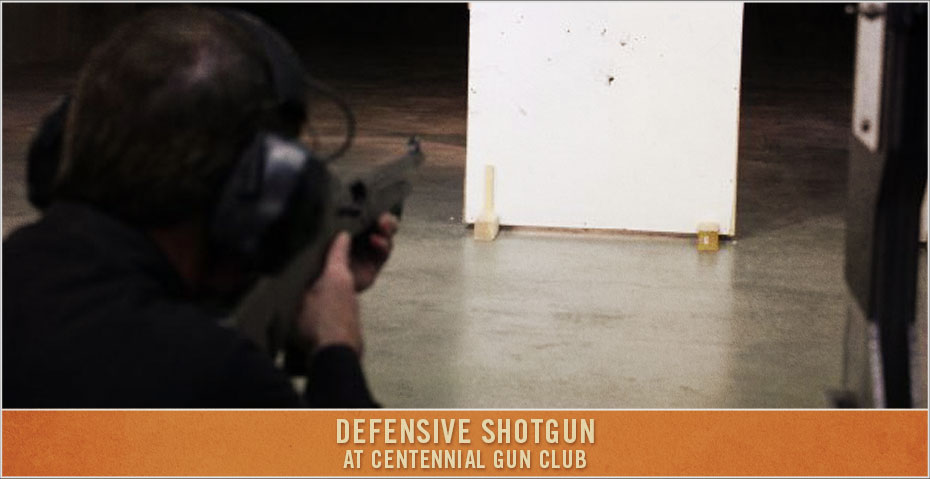 CLASS DESCRIPTION
This course teaches shotgun with a defensive mindset. The shotgun is an excellent tool for home defense. The course includes a demonstration of various shot shells fired at drywall barriers, simulating the interior of a home, to determine wall penetration of various shotgun loads. Students will understand the wide range of ammunition available for the shotgun and which are best for their particular use. We cover basics such as stance, grip, sight picture, trigger pull and follow through with emphasis on recoil management and addressing multiple targets. Range time included in the class includes addressing multiple targets, moving targets and additional challenging drills.
This course also includes patterning your shotgun with birdshot, buckshot and slugs at various ranges to understand the spread of projectiles at different distances. Use of the shotgun for home defense includes a discussion of accessories for the defensive shotgun, the use of a sling, close quarters carry techniques and range drills addressing multiple targets.
The course is a prerequisite to Defensive Shotgun Level II.
Course Objectives:
Objective 1: Understand Defensive Shotgun basics including equipment, ammunition and firearm basics
Objective 2: Provide and understanding of the many types of ammunition available for the shotgun, their uses and selection of appropriate ammunition for your application.
Objective 3: Gain an understanding of slings, ready carry techniques and close quarters combat with a long gun.
Objective 4: Discuss and understand shotgun loading and keeping the gun running with multiple targets.
Objective 5: Understand how to manage shotgun recoil and quickly recover the sights to address multiple targets.
UPCOMING DATES & SIGN-UP
PREREQUISITES
Signed Participant Agreement (available online)
18+
Some familiarity with a shotgun
WHAT TO BRING/WHAT IS PROVIDED
WHAT TO BRING

Shotgun
25 rounds #4 Birdshot
50 rounds 00 Buckshot
10 rounds Slugs (No Steel Shot)
PROVIDED BY INSTRUCTOR

Course Packet
Certificate of Completion
Demonstration Firearms and Equipment
COURSE CANCELLATION/CHANGE POLICY:
Attendee substitutions may be made at any time.
Registrants must cancel at least 72 hours before the course date to receive a full refund minus a $15 administrative fee.
Cancellations received within 48 hours of the course date will not receive a cash refund. Instead, a one-time class rescheduling can be made. A rescheduled course must occur within 12 months from original course date. All course fees are forfeited by the registrant if a replacement course has not been attended within the 12 month period.
Failure to attend the course, or cancellations less than 48 hours in advance, will result in no refund, credit of the course fee, or rescheduling.
The Centennial Gun Club reserves the right to cancel or reschedule classes at any time. IF we cancel or reschedule a class due to weather or circumstances beyond our control, you are entitled to a full refund. The Centennial Gun Club is not responsible for travel arrangements, travel fees, or any expenses incurred by you as a result of such a cancellation. IF The Centennial Gun Club cancels a class in which you are enrolled, you will be contacted at the email address you used to register. Please be sure to provide a valid email address and check your email before class.
[widgets_on_pages id="Training Pages Footer – PC"]
[widgets_on_pages id="Training Pages Footer"]