NEW OR EXPERIENCED
WE'VE GOT YOUR COURSE
Exclusive Offers for KHOW Listeners
CANCELLED
We apologize for any inconvenience. Refunds will be processed direcly from the USCCA
USCCA Legal Seminar
How to navigate the Colorado Legal System after a self-defense incident.
Seminar Topics:
Understanding the legal process after a self-defense incident
Navigating the Colorado legal system as a responsible gun owner
Threat and the use of deadly force – where it applies and where it doesn't
LIVE Q&A session included
Only $9!
Limited spots available so sign up here or use the button below!

KHOW Concealed Carry Refresher Course
Gun Laws Change frequently. What you learned about the law in your CHP/CCW class some time ago may have changed. Come in and catch up on recent changes so you aren't caught off-guard! This is a non-range class that focuses on the changes in the Concealed Handgun Permit laws. This class does not satisfy the requirements to apply or re-new your current Colorado CHP/CCW.
---
Use the special registration links below to ensure you receive the discounted course pricing:
COST: $6.30 (Normally $99.00)
WHERE: Centennial Gun Club
TIME: 6:00PM – 8:00PM

KHOW Insight Training Class Discount
Centennial Gun Club is pleased to offer $200 off the total price for our 3-class package for Insight Training courses to KHOW listeners. Thank you for listening to Ross, and thanks for helping to make Centennial Gun Club the premier destination for firearm training, equipment and on-range practice! The Deadly Accuracy, Speed Shooting, and Killer Low Light courses are being offered to Club members for $1797, and non-Club members for $1997.
---
Use the special registration links below to ensure you receive the discounted course pricing:
"I am much more confident"
Ross,
I'm about 3 weeks late getting this out, but wanted to thank you. I completed the Insight Training at Centennial Gun Club at the end of April, and I would never have taken the course if you hadn't offered the Concealed Carry Refresher.
My wife and I took our concealed carry training in Kansas before moving back to Colorado, so we thought the refresher made sense. Amazingly, the Adams County Sheriff accepted the Kansas training for our concealed carry. Despite years of qualifying with a handgun while in the Air Force, I was still not comfortable carrying. After the three week weekends a the Gun Club, I am much more confident. I know I can hit what I intended to hi, I know what it means to know what is behind my target, and I am able to get the first shot off accurately. For the first time ever, I know what I need to do in low light or no light situations, and I am able to protect my family better than I ever could before. Every bit as important, I met some great people, both instructors and fellow students!
I heard you speaking about another Refresher Course, plus a course for new shooters. Please keep speaking out – I REALLY want everyone out there carrying the need for and attend the Insight Refresher Course.
Cheers,
CURRENT OFFER 1
First Steps: Introducing you to the world of firearms and what it can mean for your personal safety.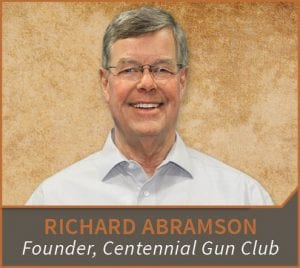 You get it. You know that evil exists in this world.
It's unfortunate, yes — but you are thankful for living in a country that guarantees your right to personal protection.
With recent news events, maybe you are now wanting to take some first steps into this seemingly chaotic and perhaps fearful world of firearms. You want to elevate your confidence when it comes to personal safety, and become empowered by gaining knowledge and training.
But what to do?
Most people start out for similar reasons – a genuine concern for their ability to protect themselves and their families. They have very little exposure to firearms, and are afraid that they will look dumb or foolish if they step foot inside a gun store. They simply do not know where to start.
Your family at Centennial Gun Club understands.
For over 5 years, many of our customers have been just like you — brand new to shooting, and wanting someone to answer even the most basic questions, and guide them to the right decisions. Our business was founded primarily to support people just like you, and it has been our great joy to have helped thousands of people who were brand new to the world of firearms become successful, knowledgeable and trained.
---
On November 30, 2017, you are cordially invited by Dick and Mary Abramson, founders of Centennial Gun Club, to join us for an evening specifically for new shooters. You will be personally welcomed and guided on a complete tour of our facility, as our staff happily familiarizes you with all aspects of shooting:
EQUIP: How to select the right equipment PREPARE: Explore the various training classes that will help you get started PRACTICE: Introduction to our state-of-the-art shooting range, including a safety briefing and complete tour
---
The goal for the evening will be focused on ensuring that YOU have a clear plan to overcome your fears,
and leave with confidence as you are set on a path to firearm proficiency
. Please join us! We would love to meet you! Sincerely, Dick and Mary Abramson Founders, Centennial Gun Club EQUIP • PREPARE • PRACTICE
TM

Thank you for your interest in Centennial Gun Club!
Please swing by our store and range at any time. We'd love to see you.
NOT FINDING THE CLASS YOU WANT?