Every Day Carry (E.D.C.) Drills Course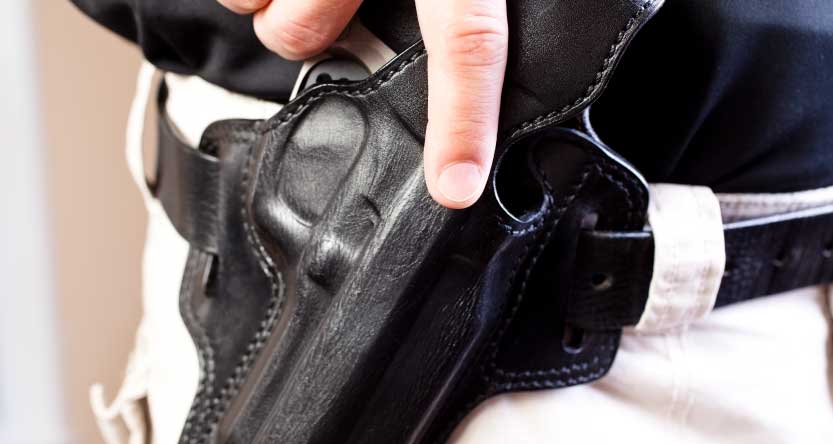 CLASS DESCRIPTION
WHO SHOULD ATTEND THIS CLASS?
This class is for CHP (Concealed Handgun Permit) holders. E.D.C. Drills is the opportunity to improve shot precision; learn how to complete drills correctly and become comfortable learning to trust your intuition. 
E.D.C. Drills is a guided practice course and represents an advanced step in your awareness through ongoing professional skill building.
WHAT WILL YOU LEARN?
This class focuses on developing:
confidence

improved shooting skill set

importance of intuitive knowledge

muscle memory for consistency & accuracy by programming motor skills to the unconscious
When faced with a sudden decision, there is no questioning readiness once you have a clear perception of a situation. Drill practice, technique, and intuitive understanding is a valuable part of awareness and training.
Automatic thinking under stress can only be developed by:
Planning

Practicing

Experiencing
Our brains filter data in our unconscious brain in a story, learn how not to ignore it. Preparation comes through practice and conditioning your instincts.
UPCOMING DATES & SIGN-UP
Every Day Carry Drillshttps://tms.ezfacility.com/OnlineRegistrations/Register.aspx?CompanyID=2984&GroupID=2157794

| | | | | |
| --- | --- | --- | --- | --- |
| Day | DATE | TIME | MEMBER | NON-MEMBER |
| Wednesday | 10/17/18 | 1130AM-1230PM | REGISTER | REGISTER |
| Wednesday | 10/24/2018 | 1130AM-1230PM | REGISTER | REGISTER |
| Wednesday | 11/07/2018 | 1130AM-1230PM | REGISTER | REGISTER |
| Wednesday | 11/14/2018 | 1130am-1230pm | REGISTER | REGISTER |
| Wednesday | 11/21/2018 | 1130AM-1230PM | REGISTER | REGISTER |
| Wednesday | 11/28/2018 | 1130AM-1230PM | REGISTER | REGISTER |
| Wednesday | 01/09/2019 | Holiday Break |   |   |
PREREQUISITES
Signed Participant Agreement (available online)




Concealed Handgun Permit (CHP) holder




Basic knowledge of your firearm




Holstered qualified with a semi-automatic Pistol, either an IWB or OWB holster



WHAT TO BRING/WHAT IS PROVIDED
WHAT TO BRING
Pistol, holster  (Holsters must be either Kydex or Leather – no nylon or other materials)
* Available for Rental from CGC


minimum of 3 magazines

eye and ear protection

100-150 rounds of ammunition for each session

Closed-toe shoes
PROVIDED BY INSTRUCTOR
IMPORTANT NOTES
Practice Drills of all concepts
15 min. classroom discussion
45 min. E.D.C. Shooting Drills
Concealed drills




Moving target drills

Drawing firm concealment
Do you assume your skills will always stay strong without hesitation? Would you like to improve your shooting skills, feel confident, and better prepared? Through drills and experience you will develop the awareness and capacity to respond to challenging situations.
COURSE CANCELLATION/CHANGE POLICY:
Attendee substitutions may be made at any time.
Registrants must cancel at least 72 hours before the course date to receive a full refund minus a $15 administrative fee.
Cancellations received within 48 hours of the course date will not receive a cash refund. Instead, a one-time class rescheduling can be made. A rescheduled course must occur within 12 months from original course date. All course fees are forfeited by the registrant if a replacement course has not been attended within the 12 month period.
Failure to attend the course, or cancellations less than 48 hours in advance, will result in no refund, credit of the course fee, or rescheduling.
The Centennial Gun Club reserves the right to cancel or reschedule classes at any time. IF we cancel or reschedule a class due to weather or circumstances beyond our control, you are entitled to a full refund. The Centennial Gun Club is not responsible for travel arrangements, travel fees, or any expenses incurred by you as a result of such a cancellation. IF The Centennial Gun Club cancels a class in which you are enrolled, you will be contacted at the email address you used to register. Please be sure to provide a valid email address and check your email before class.