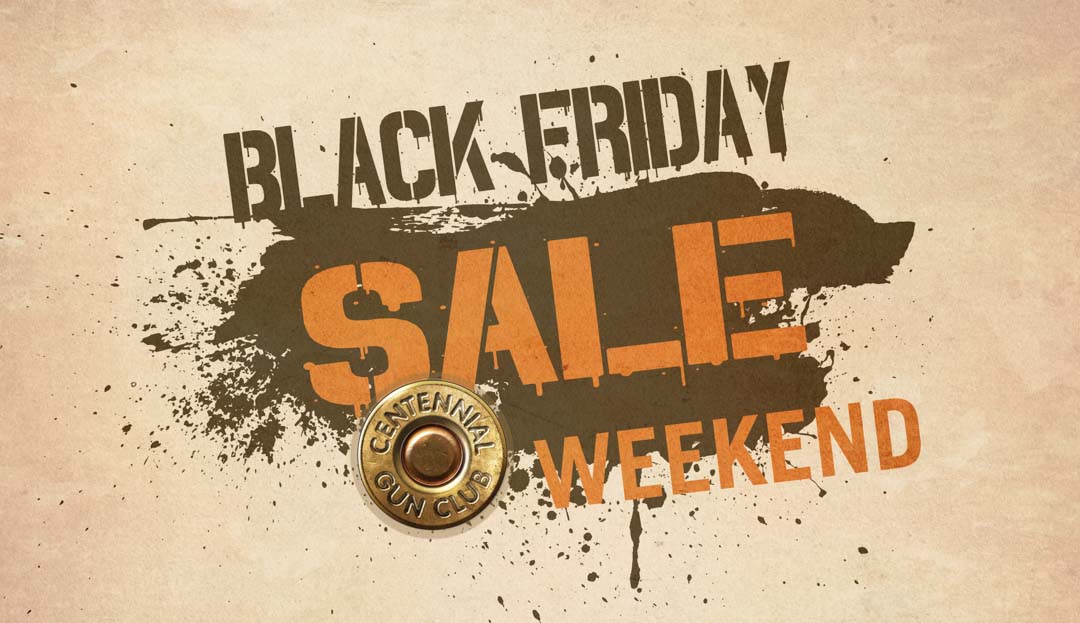 Friday, November 29
Saturday, November 30
Sunday, December 1
It's here……..and well worth the wait!
Deals Too Big for One Day!
Celebrate with Us All Weekend!
Holiday Hours
Closed Thanksgiving Day, November 28th
Doors Open at:
9:00 AM on Black Friday, November 29th
8:00 AM on Saturday, November 30th
10:00 AM on Sunday, December 1st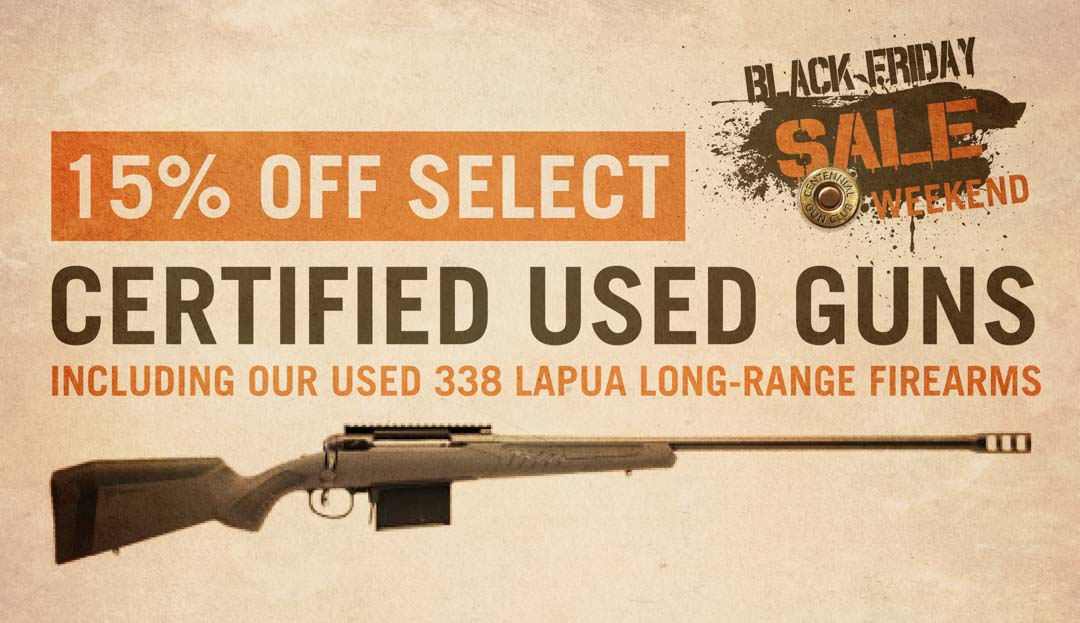 15% off select certified used guns including our used 338 Lapua long-range firearms.
What does it take to keep your firearm in the best condition possible?
It takes a team with complementary skills, over 35+ years of experience and a common purpose.
At your service is Centennial Gun Club's newly expanded Legacy Gunsmithing.
Consider Legacy your own professional "pit crew".
You don't need a long list of gunsmith resources, you only need one, the right one!
Retail
Ready for an amazing on-hand shopping adventure?
We're kicking off Black Friday with these "Hot Ticket" Deals!
Featured Holiday Gift Ideas.
ALL at Amazing prices.
Model SD9 VE promo kit – Crimson Trace Pistol Light – $289.95 
M&P 15-22 with 4X Optic and Bipod promo kit – $329.95 
M&P 15 Sport II with/Vertical Grip and Case Promotion – $529.95
Remington 9mm Ammo buckets – 350 rounds 115 GR for $64.95
ALL New Wilson Combat Guns – 15% OFF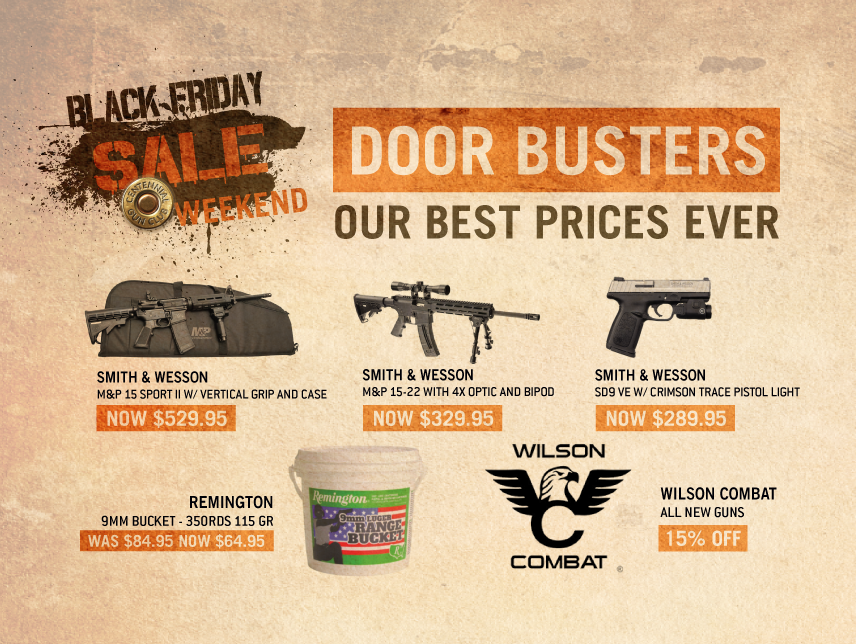 Doorbusters
Benchmade Knife – 50% OFF
Cytac Holsters – 40% OFF
M&P Delta Force Flashlight- 50% OFF
Shadow System Glock Compatible Slides – ALL 50% OFF
Quantum Ammunition Inceptor 223 REM SSR 88 GR 500 RDS CAN – 50% OFF
Check out the Black Friday Weekend Flyer & Stop by the club, there's MORE!
This winter, spend some time shooting with your new favorite firearms & accessories.
We've RESTOCKED
Added NEW INVENTORY
And…have SPECIAL DEALS waiting for YOU!
Membership
Did you know Centennial Gun Club is more than a place to come and practice? It's a community and network of like-minded people who enjoy shooting sports recreation and education. Stop by, and see the strength of a collective group.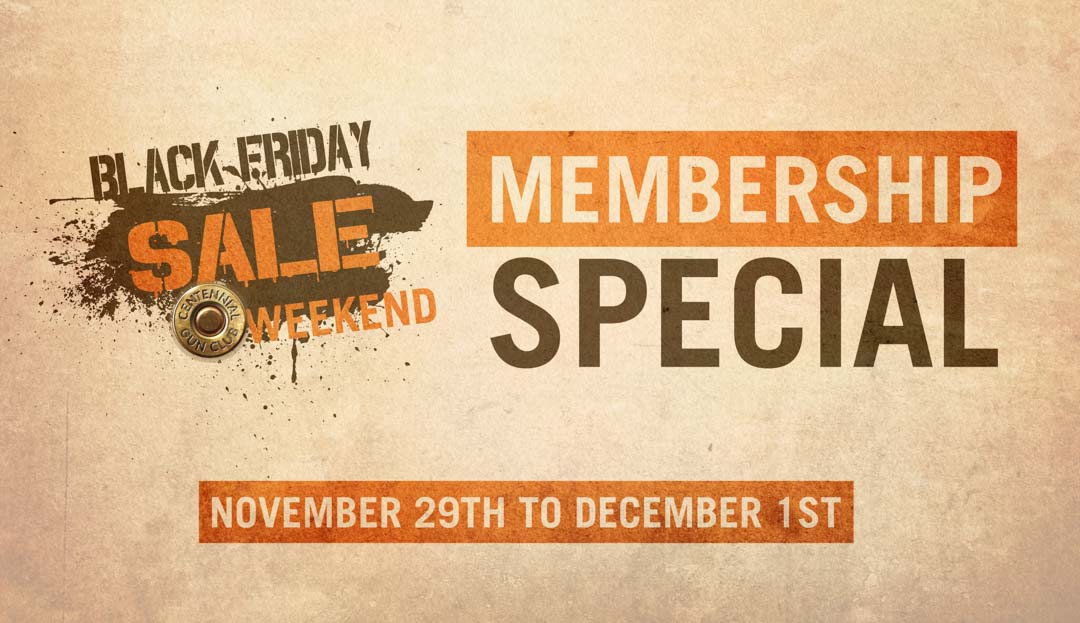 Membership Special
Initiation fee for Individual Member is $100.00
Initiation fee for Couple's Membership is $150.00
Initiation fee for a Family Membership is $200.00
Individual
Initiation fee for Individual Member is $100.00
Couples
Initiation fee for Couple's Member is $150.00
Family
Initiation fee for Couple's Member is $200.00
As part of our community membership outreach for YOU, a Membership Special was created to better serve the changes in support that our community needs.
More affordable.
Personable Range and Retailer Guides trained to meet your present and future needs.
Additional scheduled offerings for training classes, women only classes and events, plus group training, etc.
Events tailored for novice and experienced shooters, including fun, community networking and socializing.
Cutting-edge technology VAST – (Video Action Shooting Target) added to aide in your practice and recreation.
Our mission has been and always will be to provide highly skilled services and recreational opportunities for you.  There is no greater reward than to invest in people and the communities they support.
Centennial Gun Club is here to help you in support of each other together!
BOGO Gift Cards
For everyone $100 you spend from November 29th-December 31st, YOU will receive one $20 Bonus Card via email after checkout. The Bonus Gift Card is valid 1/1/2020- 6/30/2020
*There is no limit on the amount of bonus gift cards an individual may receive!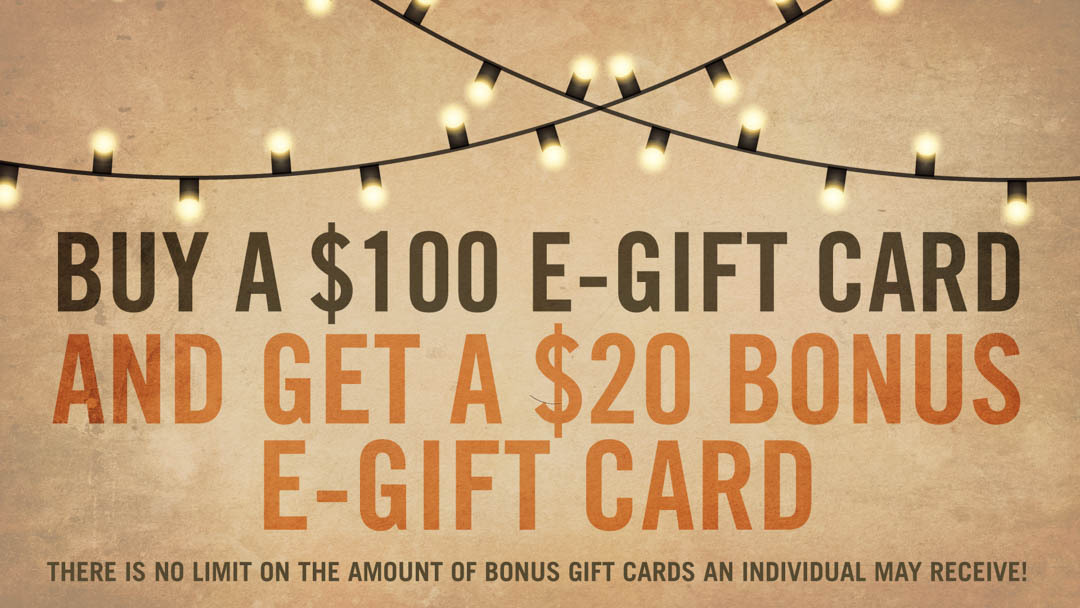 With gratitude, thank you for supporting where you shoot!