The Psychology of Carrying a Gun

Are You Prepared to Use it?

Course Title:
The Psychology of Carrying a Gun

Minimum Enrollment: 7
Maximum Enrollment: 20
Cost: $99.00
Age: 14+
| | | | | |
| --- | --- | --- | --- | --- |
| DAY | DATE | TIME | SESSION | SELECTION |
| Tuesday | 01/23/2018 | 6PM-9PM | PSY00101232018 | REGISTER |
Have you and your family prepared for a home invasion?
How prepared are you and your family for a fire in your home?
So many people don't take the time to think or plan on how their family would react to a life-threatening event at home or in public.  Don't leave your family asking, "What do we do?"  A gun is a tool and having the correct mindset is a critical element in using that tool.
This course is broken down into 3 phases:
The Psychological – We will address 'how" the brain works in an emergency. You will be challenged to explore your belief system about taking a life and the psychological aftermath if you ever kill someone.
Shoot/Don't Shoot – You will be given several scenarios on our Simulator where you will learn just how quickly you MUST react.
Live Fire – We will go to the range for some live fire drills where you will shoot at moving targets.
The goal of the class is to give you, and your family, the knowledge, and skills to feel even more empowered at home or in public.
Ask yourself: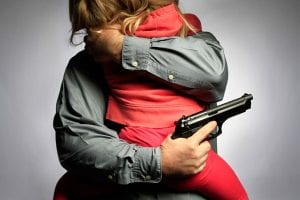 Do you REALLY need to carry a gun at home or in public?
Is everyone in my home prepared in the event of an intruder?
Are my family members prepared for an Active Shooter at the mall?
Are my children prepared for an Active Shooter at their school?
How do I know when to shoot and not to shoot?
Will I be able to tell the difference between a "bad guy" and an undercover police officer?
How are your children handling the current violence in our society; can they talk to you?
The Centennial Gun Club motto is, EQUIP ● PREPARE ● PRACTICE.  Join us to PREPARE for the "before, during, and after" of a home invasion or an active shooter in a public place.
Please note:  We have determined that having at least 8-10 participants, is essential to provide an exceptional experience for everyone.  Therefore, if you register for this class as an individual we may have to reschedule you if the class does not meet the required minimum enrollment.  We will offer discounts to GROUP registrations.  We will also make arrangements to schedule the class to meet the needs of the group.  All you need to do is get a commitment from 8 colleagues, neighbors or associates we will arrange the time for this class.  You are welcome to "combine" two or more groups such as 4 from your church and 4 from work.  The Individual Rate is $99.00/person.  The Group Rate will be negotiated depending upon the size of the group.  For details, Please contact Dr. Chuck to register as a group.  We also have a "waitlist" if you cannot get a group together, we will add you to an existing group or schedule a class when there are at least 8 individuals on the list.
Everyone is required to have an up-to-date waiver.  If you are new to the Club and need to sign our waiver, please look for the "tab" at the bottom of every page which states:    SIGN OUR PARTICIPANT AGREEMENT
IMPORTANT NOTICE:
For the Live Fire portion of the class, you are welcome to bring your own firearms and 50 rounds of ammunition. All guns need to be CASED. NO guns or ammunition are allowed to be in your possession in the classroom. When entering the class, place your gun case along the front wall of the classroom.  
If you would like to rent one of our guns, the rental fee is $15.00 plus ammunition. If you plan to rent, please let us know and come early so we can make your selection(s) before the class.
Pre-Requisites: None
Who should attend: Families and teens 14 and older.  Church Groups, Co-Workers, Neighbors.
What You Should Bring: Your own Pistol, 50 rounds of ammunition, plus eye & ear protection.
Instructor Will Provide: Ear and eye protection if needed.

This class is co-lead by experts in two different areas of handling a gun, the psychological and the tactical.
Instructors: